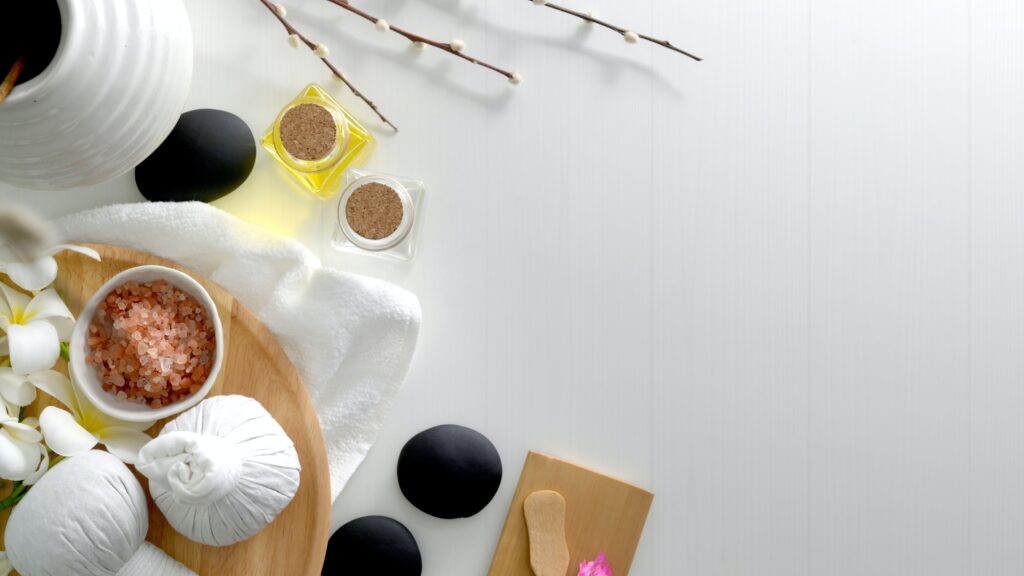 Traditional Therapeutic Swedish Massage
Therapeutic Swedish Massage techniques aid relaxation of the entire body. Swedish massage increases the level of oxygen in the blood, decreases muscle toxins, improves circulation and flexibility while easing tension. It has many benefits including stress relief, reduces anxiety, aids sleep, reduces headaches and much more.

30 Minute – Back, Neck and Shoulder Massage – £25
60 Minute – Full Body Massage – £45
90 Minute – Full Body Massage – £60
Aromatherapy Therapeutic Swedish Massage – Pre-blended oils
Aromatherapy is a complementary therapy that uses essential oils which are fragranced and can aid emotional and physical well being. Essential oils, when smelt stimulate your olfactory system, the part of your brain that is connected to smell. This can trigger certain emotions and memories. You can absorb some essential oils through your our skin during the massage.

30 Minute – Back, Neck and Shoulder Massage – £27
60 Minute – Full Body Massage – £47
90 Minute – Full Body Massage – £65
Indian Head Massage
Originating in India, this form of massage focuses on your head, face, neck and shoulders, increasing joint mobility in the neck and shoulders. It aids relaxation, can reduce headaches, anxiety, stress, insomnia and tension. This treatment can be performed with or without oils.

30 Minute – £25

Pregnancy Massage
Pregnancy massage aids and maintains the wellbeing of mother and child. Benefits include soothing relief from aching muscles and joints, reduction in anxiety, ease swollen hands and feet along with promoting relaxation. Massage can also help to raise your endorphin, serotonin and dopamine levels, making you feel good! Enjoy a relaxing calming massage to melt away stresses, strains and tired tense muscles.

30 minute – Back, Neck and Shoulder – £25
60 Minute – Full Body Massage – £45
90 Minute – Full Body Massage – £60
Deep Tissue Massage
Deep tissue massage aids flexibility by reducing tension in tight muscles helping to relieve aches and pains. It is a slow paced treatment that concentrates on problem areas. This is achieved by applying a strong deep pressure, targeting the deeper layers of muscle and connective tissue.

30 minute – Back, Neck and Shoulder – £25
60 Minute – Full Body Massage – £45
Treat Your Feet – Relaxing foot treatment
Treat your feet to a relaxing foot treatment. Start with a soothing foot bath, an exfoliating foot scrub, then a relaxing foot massage, finished off with an enriching foot mask (optional hand/head massage can be offered while relaxing).
45 Minutes – £30.00
Bespoke Massage – A massage tailor made to your requirements – price on application.
Mobile Service – mileage surcharge of 45 pence per mile will apply.