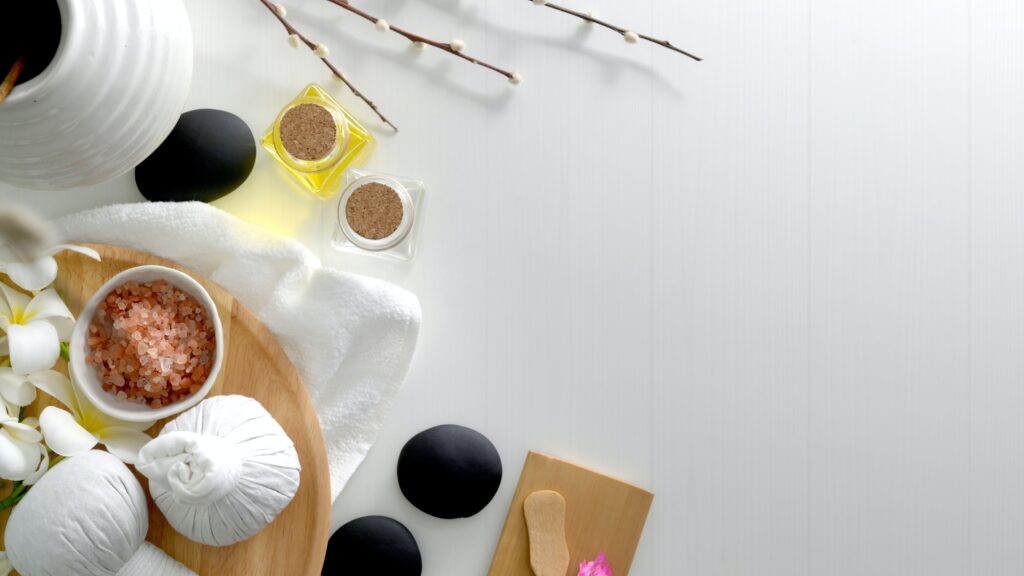 Traditional Therapeutic Swedish Massage
Start your journey of relaxation with a Therapeutic Swedish Massage, designed to unwind the entire body. This method works through a skilful combination of long, gliding strokes and movements. Using various levels of pressure to manipulate muscles, harmonising physical and mental elements to provide a comprehensive therapeutic experience. It elevates blood oxygen levels, reduces muscle toxins, enhances circulation, and improves flexibility, effectively alleviating tension. Beyond these physical benefits, Swedish massage offers a multitude of advantages, including stress relief, anxiety reduction, improved sleep, and relief from headaches, among other wellness benefits. Experience the holistic impact of massage therapy as it nurtures your well-being and can have a profound impact on the mind, fostering a tranquil mental state.

30 Minute – Back, Neck and Shoulder Massage – £30
60 Minute – Full Body Massage – £50
90 Minute – Full Body Massage – £70
Aromatherapy Therapeutic Swedish Massage – Pre-blended oils
The soothing experience of an Aromatherapy Therapeutic Swedish Massage, featuring expertly pre-blended oils by Neal's Yard Remedies. Aromatherapy, a complementary therapy, harnesses the power of fragranced essential oils to enhance both emotional and physical well-being. As the scents are inhaled, they stimulate the olfactory system, intricately linked to the sense of smell and connected to emotions and memories. During the massage, your skin absorbs some of these essential oils, allowing you to fully immerse yourself in the therapeutic benefits of this wonderful holistic escape.

30 Minute – Back, Neck and Shoulder Massage – £32
60 Minute – Full Body Massage – £52
90 Minute – Full Body Massage – £72
Indian Head Massage
Originating in India, this ancient art of Indian Head Massage focuses on your head, face, neck and shoulders. Increasing joint mobility in the neck and shoulders, fostering deep relaxation, and offering relief from headaches, anxiety, stress, insomnia and tension. Whether you prefer this treatment performed with or without oils, it will provide a holistic experience to soothe both body and mind.

30 Minute – £30
45 Minute – £45

Pregnancy Massage
Pregnancy massage aids and maintains the wellbeing of mother and child. Benefits include soothing relief from aching muscles and joints, reduction in anxiety, ease swollen hands and feet along with promoting relaxation. Massage can also help to raise your endorphin, serotonin and dopamine levels, making you feel good! Enjoy a relaxing calming massage to melt away stresses, strains and tired tense muscles.

30 Minute – Back, Neck and Shoulder – £30
60 Minute – Full Body Massage – £50
90 Minute – Full Body Massage – £70
Deep Tissue Massage
Deep tissue massage enhances flexibility by alleviating tension in tight muscles, providing effective relief from aches and pains. This methodical and conscious treatment focuses on addressing specific concerns through a slow-paced approach. By applying a robust deep pressure, targeting deeper layers of muscle and connective tissue, facilitating a profound release of tension and promoting overall muscular well-being.
30 Minute – Back, Neck and Shoulder – £30
60 Minute – Full Body Massage – £50
Warm Bamboo Massage
Discover the unique benefits of a specialised bamboo massage. Experience the therapeutic touch of heated solid bamboo sticks designed to effectively release muscle tension. This technique employs various sizes of bamboo sticks to deliver a targeted and profound pressure, making it an ideal choice for addressing muscle stiffness in specific areas or relieving tension and tightness throughout the entire body. A truly exceptional experience.

30 Minute – Back, Neck and Shoulder – £30
60 Minute – Full Body Massage – £50
Holistic Facials*
Embark on a holistic facial journey that goes beyond the surface, delivering not only radiant skin but an incredibly serene experience. At Ferndown Massage, we use various products including the renowned Neal's Yard Organic Remedies in our holistic facial treatments, tailoring a skincare regimen that aligns with both your skin type and emotional well-being. This transformative facial seamlessly blends cleansing and nourishment, accompanied by a soothing massage that transports you away from daily stressors, promoting an elevated sense of well-being. (*Please note that a consultation is essential for your initial facial to ensure personalised care.) Elevate your self-care routine with our holistic approach, where the harmony of inner and outer beauty takes centre stage.
Holistic Facial
Indulge in a truly serene escape with a holistic facial experience, a sanctuary of relaxation amidst the demands of everyday life. Immerse yourself in a comprehensive facial massage that extends to your neck and head, providing a rejuvenating respite from stress. The expertly curated facial treatment includes cleansing, toning, exfoliating, facial mask, moisturising, and more, ensuring a thorough pampering for your skin. Enhance your tranquility with a mini foot or hand/arm massage while your face mask works its magic. To complete the experience, choose a soothing Neal's Yard Remedies herbal tea to take home, extending the rejuvenation beyond your time at Ferndown Massage. Elevate your well-being with a facial that transcends the ordinary, offering relaxation for both body and soul.
60 minute – facial including hand/arm or foot massage – £55
Holistic Mini Facial
Revitalise, rejuvenate, and unwind with the 30-minute mini holistic massage facial. Experience the perfect blend of cleansing, hydrating, and moisturising, all complemented by a soothing facial massage. Treat yourself to a brief yet indulgent escape, allowing your skin to glow with renewed freshness and your mind to relax in just half an hour.
30 Minute – mini facial – £35
Thai Herbal Compress Massage
Herbal compresses or "Luk Prakob" in Thai have been used in Thailand for hundreds of years in conjunction with traditional massage. Thai Herbal Compress is a massage without oil. Various herbs are wrapped in balls of cotton muslin and are steamed to release the potent qualities of the herbs. The herbal compress is systematically pressed over the entire body in order to soothe muscle tension and simultaneously achieve a relaxing and invigorating effect on the mind and body.
This treatment will help to reduce tension, aid deep relaxation and improves circulation. The herbs contain natural anti-inflammatory properties, so they can reduce inflammation and also help with natural pain management.
60 Minute – Full body – £65
Treat Your Feet – Relaxing foot treatment
Indulge in pure bliss with the "Treat Your Feet" treatment – a truly relaxing foot treatment that pampers your feet from start to finish. First a soothing foot bath, followed by an invigorating exfoliating foot scrub. Next, experience the ultimate relaxation with a soothing foot massage, and complete the journey with an enriching foot mask. As you unwind, delight in the additional of a hand and arm or head massage to enhance your overall relaxation. Elevate your self-care routine and let your feet revel in the luxury they deserve.
45 Minute – £45.00
Bespoke Massage – A massage tailor made to your requirements – price on application.
Mobile Service – a surcharge of £10 will apply for this service.